Crypto aggregator
What is Crypto aggregator?
Crypto aggregator is a system that allows to combine Crypto currency trading data from biggest exchanges, as Bitfinex, Kraken, Gdax and Poloniex to a single price feed Realtime. This is guarantees crypto-currency liquidity and allows to ensure uninterrupted trade without days off and holidays.
Crypto aggregator structure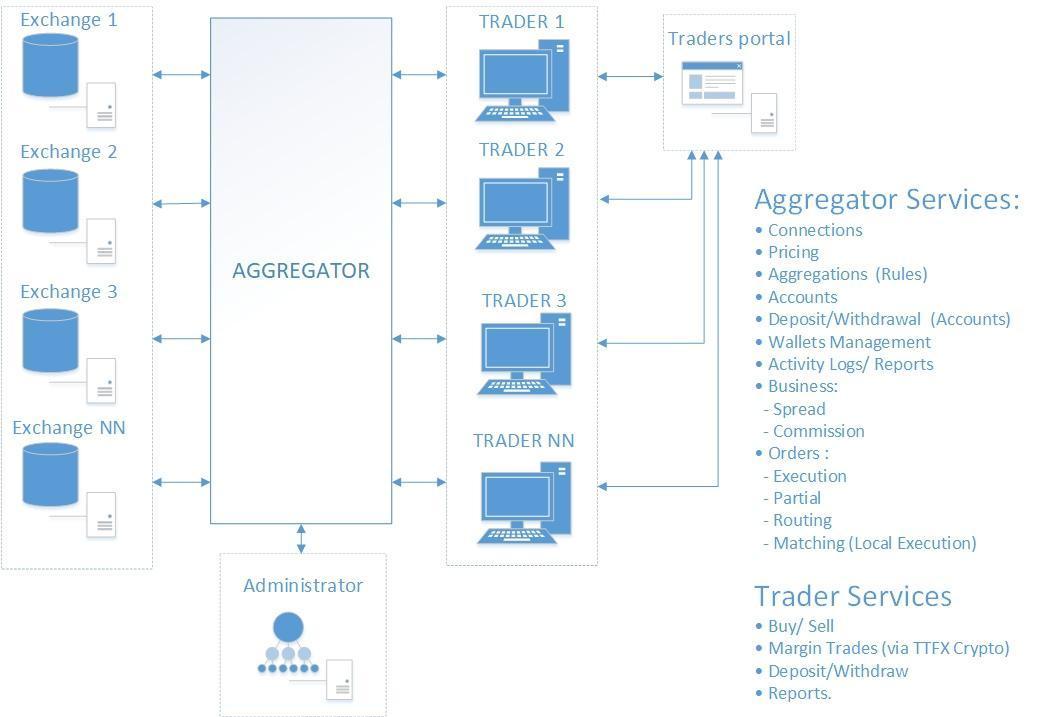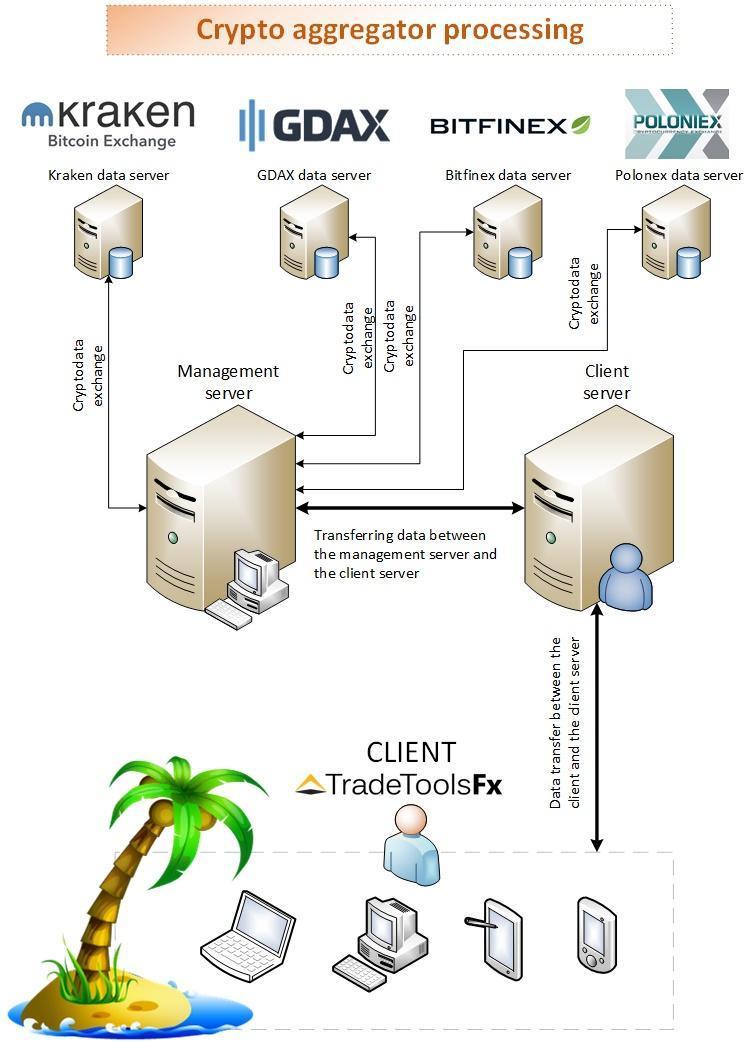 Crypto aggregator is a software that allows to unite on a single site a large number of brokers and crypto-instruments and thereby to open access to the market of crypto-currency for a wider population. Crypto currency is aggregated from the largest exchanges Bitfinex, Kraken, Gdax and Poloniex, which guarantees crypto-currency liquidity and allows to ensure uninterrupted trade without days off and holidays. Can be used in Crypto Trading platform.
Poloniex
Poloniex is called one of the largest exchanges of the crypto-currency market, the leader in most ratings by trading volume. The platform was registered in 2014 in the US, supports about 140 trading pairs and has 5387 online visitors daily.
The main advantage Poloniex - convenient and easy to navigate. On one screen displays news, markets and chats. There is an opportunity to sort the market at once by several parameters: price, alphabet, volume, in addition, the user has tools for setting up selected pairs.
Poloniex has certain advantages over other exchanges. Namely:
- a large number of trading pairs, which allows you to operate not only with popular digital currencies, but also in pairs not represented on other exchanges;
- the possibility of investing with a minimum amount on hands;
- Low commission for operations, especially for large players;
- Reliability and security (two-factor authorization).
Bitfinex
Bitfinex is a Hong Kong platform that operates with three trading pairs (BTC / USD, LTC / USD, BTC / LTC) and provides an option for margin trading. Bitfinex has a simple Russified interface and requires strict verification of the identity when working with USD (an identity card that has a legal service, phone number, bank payment or bill for paid utilities).
Bitfinex provides the possibility of simultaneous use of several order modes, removes up to 0.20% commission for trading operations and offers 0.1% for withdrawal and input of USD.
There are three ways to work with Bitfinex:
- Exchange is a normal account for standard trading operations;
- Margin - margin trading, which involves conducting transactions solely for investment funds intended for trading;
- Funding - trading at the expense of investor funds, which are allowed to use for loans for a period of 2 to 30 days.
Kraken
Kraken began work in 2011 under the leadership of the founding company of San Francisco. It offers trading operations in fiat currencies (USD, JPY, EUR, GBP) and between crypto-currencies.
Kraken offers users several stages of verification:
- Zero level, at which the user is only allowed to observe;
- the first level, where access to the entry, withdrawal and trading of crypto-currencies is opened;
- at the second level, it is allowed to conduct transactions in national currencies;
- access to the third and fourth levels allows the user to operate large amounts by increasing the limits.
GDAX
GDAX is a platform created in 2016 in San Francisco for the placement and trade of Bitcoin and Altcoins. The exchange, covering the international market, offers users a two-stage verification and provides services for exchange, payments and transfers in crypto-currencies with the support of debit and credit cards.
GDAX offers users:
- optimal commission: 0% for market makers and up to 0.25% for market-takers;
- the ability to operate a large number of orders;
- reliability and safety;
- simple and convenient interface, fast connection;
- good liquidity.
Request free consultation about Crypto aggregator