FXlite plugin for metatrader 4 and metatrader 5 - a unique software solution for Forex and Binary Options brokers
Multi-Account Trader (MAT) - one of the main components of FXlite plugin for metatrader 4 and metatrader 5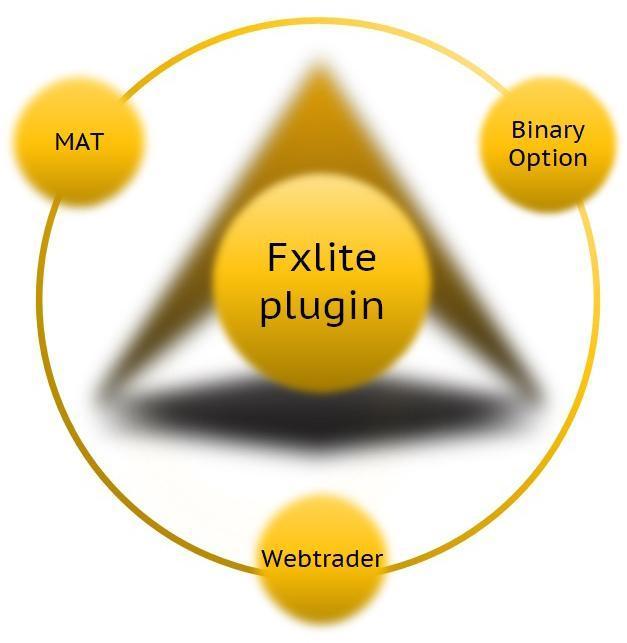 Multi-Account Trader (MAT) can rightly be called one of the most powerful innovative products that ever hit the Forex market. Multi-user trader (MAT) is a convenient trading tool that allows you to simultaneously manage several trading accounts of Metatrader 5 / Metatrader 4 when trading with one main account.
The MAT system is the first tool that integrates into the Metatrader 5 / Metatrader 4 platform. The MAT was developed specifically for brokerage companies and offers professional traders and money managers a convenient trading tool for simultaneous management of several Metatrader 5 / Metatrader 4 trading accounts.
MAT allows you to extend the functionality of the trading platform by adding the services of managed funds. This decision is mandatory to attract inexperienced traders who want to trade on Forex effortlessly. Professional traders manage the accounts of several traders, receiving commissions for successful trading. The profits and losses are distributed in accordance with the customers' investments.
Key advantages of the MAT in the FXlite plugin for metatrader 4 and metatrader 5
1. The best plug-in for the PAMM-service.
2. Exact volumes of orders.
3. Distribution of transactions in real time with the same price.
4. Support of all types of orders (SL / TP, Pending).
5. Compatibility with other plug-ins.
6. Ability to check the history of the account traders.
7. Suitable for STP brokers (compatibility with bridges).
Binary Options plugins - the best brokers plugin for increasing revenues
Binary options on Metatrader 5 / Metatrader 4 is a standalone client program that interacts with Metatrader 5 / Metatrader 4 without using DLL / EXE files in the Metatrader 5 / Metatrader 4 client terminal. The BO plugin can be used by a broker to increase revenue from an existing client base or as a tool to attract new customers to Metatrader 5 / Metatrader 4 for Binary Option and Forex.
An economical solution for binary options for Metatrader 5 / Metatrader 4 brokers who do not need to develop websites, process payments or CRM solutions. Uses Metatrader 5 / Metatrader 4 for accounting functions and trading history. Does not affect the functionality of Metatrader 5 / Metatrader 4 - customers can still trade on Forex, run custom indicators and EAs in the Forex and Binary Option charts. Also includes the FX LITE Admin tool, in which the broker can run reports, set contract expiration dates, pay interest and manage risks.
Brokers can also offer binary options trading over Metatrader 5 / Metatrader 4 to their network of White Labels and IB partners.
How to use FXlite plugin Binary Options for Metatrader 5 / Metatrader 4
By including Binary Options, trading on the Metatrader 5 / Metatrader 4 platform, traders can now use the most popular Metatrader 5 / Metatrader 4 - Expert Advisors (EAs) function. Binary Options EAs allow traders to automate their Binary Options strategies by refusing to influence the human factor (emotions - first of all) in making trading decisions.
Key features of FXlite plugin Binary Options:
- allows you to fully automate trading strategies Binary Options;
- gives the right to create custom indicators and scripts to determine trading opportunities;
- includes built-in MQL - no need to learn a new encoding language;
- opens access to many existing experts in the Binary Options trade;
- uses the global ecosystem Metatrader 5 / Metatrader 4;
- monitors the binary option;
- allows you to trade EA on mobile devices.
Platform WebTrader in the FXlite plugin (metatrader 4 and metatrader 5 )
The WebTrader platform is designed for online trading in the international currency market. Access to financial markets is carried out directly from the browser, so the user does not need to download and install additional software. You can work on the platform from any gadget or personal computer with Internet access: simply log into your account and quietly do business.
WebTrader is a simplified, multifunctional platform with a simple and intuitive interface. The program is designed in such a way that beginners can quickly and without much trouble understand the settings and account management. For experienced players, WebTrader offers convenient functionality, through which you can perform all the necessary operations. Connecting to the program WebTrader offers the user a number of advantages, including a large number of different financial instruments and monitoring the state of trading transactions in online mode.
The main advantages of the platform:
- using the terminal allows you to manage your account from a regular browser anywhere in the world;
- the program is technically compatible with almost all popular Internet browsers and assumes support for multi language interface;
- The platform is available for users of all major operating systems: Windows, Linux or Mac OS;
- technology guarantees instant execution of orders;
- the possibility of technical analysis of data is supported, current quotes and information about the trading account in real time are provided.
Using the FXlite plugin for metatrader 4 and metatrader 5 , you can greatly improve your own achievements: simply track successful transactions, copy them and learn the algorithm. After a while you will be able to independently develop strategies.
Request free consultation about FXlite plugin (Fix plugin):