Multi Commission Plugin for Metatrader 5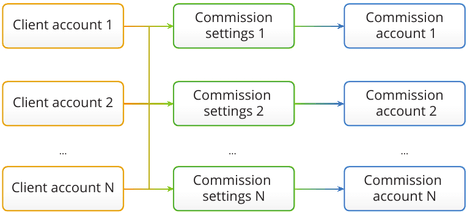 The Multi Agent Commission Plugin allows you to allocate agent commis- sion by points or money to an unlimited number of agents or sub-IB's.
Any changes are updated in realtime using a simple text based config file, which does not require an MT5 server restart. You can set several filters using groups / accounts and or symbols.
The plugin uses very little server resources since it is installed as an MT5 server API plugin which does not use the slower manager API.
The Multi Agent Commissions Plugin allows a broker to distribute spread commission between your introducing brokers and afiliate agents with maximum fiexibility compared to standard setup offered via MT5. The flexibility is demonstrated by the ability of a broker to spread commissions to any number of agents based on position symbol, account group and account number.
The size of commission can be set in % or in points from trade size. The Multi Agent Commission tool provides a broker an easy and effective solution for commission management.
A distinctive feature of the plugin is a web interface that allows you to manage plugin settings.
Multi Commission Plugin for Metatrader 5 - manual
Request free consultation about Multi Commission Plugin for MT5