uBridge for Metatrader 5 / Metatrader 4 / FXGO
( FIX Bridge or FIX plugin ) with LP integration built-in
uBridge
NOW INTEGRATED WITH Prime XM and TopFX.
We offer a bridge between your MT4 and MT5 or FXGO to any data feed provider in the world and is: Easy. Fast. Affordable.
EASY
Our solution provides a reliable bridge between data feed and liquidity providers to your MT4 and MT5 or FXGO at an affordable and fixed price.
We provide a comprehensive solution that is powerful and comparable to the more popular brands in the market place.
Our bridge allows integration into any data feed provider and allows the ability to manage your orders, multiple data feeds, and STP connectivity with a back office application
FAST
We can provide FX and CFD data to your preferred broker, or provide one that we recommend.
You have the ability to connect your data into a Price Aggregator along with Consolidation tool to help manage quickly multiple data feeds.
Low latency and high grade security ensures fast execution and low chances for slippage.
The connectivity may be fast, but you'll still have the time to monitor the quality of the data.
AFFORDABLE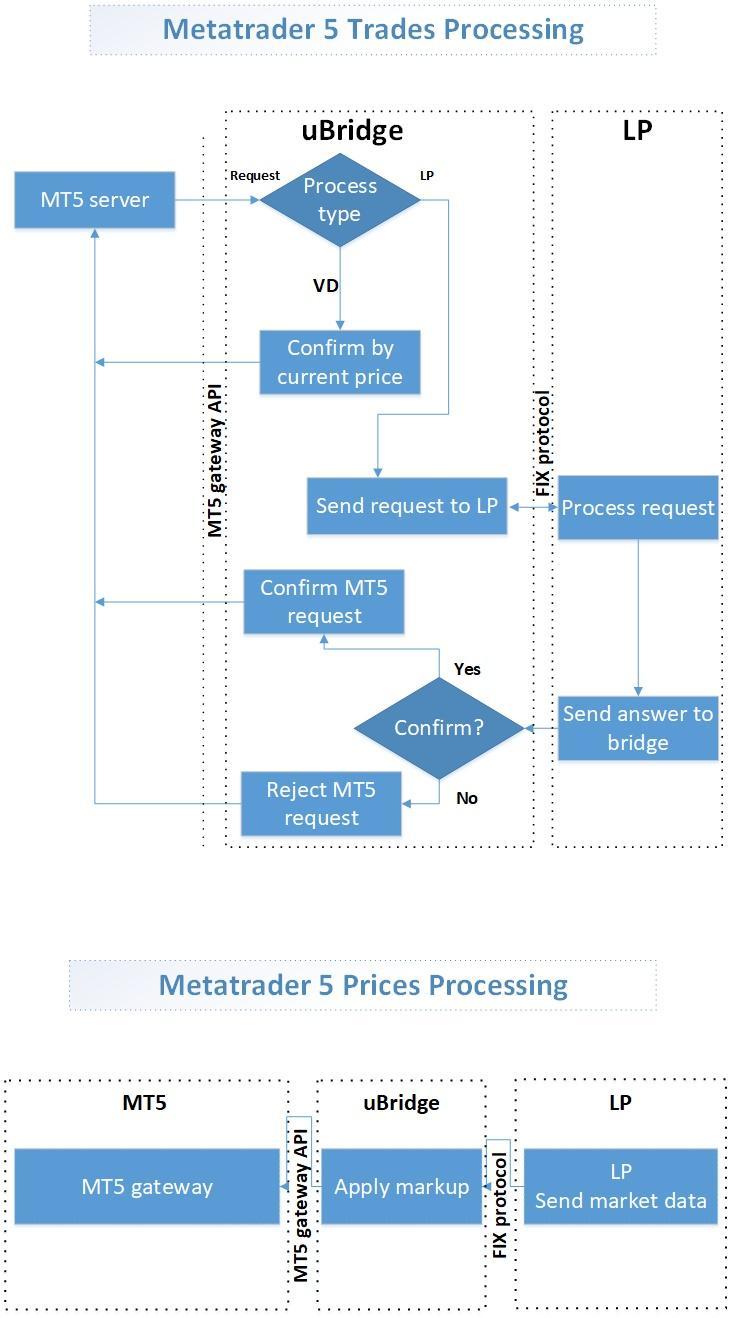 (We now offer Cryptocurrency feeds)
We have been providing technology and custom solutions for the forex industry for 14 years which marks us as one of the longest in this sector due to our reliability and experience. And have built expertise in offering fixed pricing instead of ongoing performance fees tied to trading volume.
Our fixed price includes both MT4 and MT5 or FXGO. So if you are using one or both, you save.
If you are looking for these benefits below without volume fees and additional bridge fees, then we believe we are the right match for your company.
Additionally, we offer to our customers a cryptocurrency data feed as an additional bonus.
FX CFD DATA FEEDS
Whether you use our data feed and regulated STP liquidity, or choose your own. Our bridge will provide a reliable and affordable connectivity that is competitive with the best in class API.
Choose from +100 Forex currency pairs and +250 CFD instruments to offer your customers. CRYPTO DATA FEEDS
Our Crypto feed connects to the most popular crypto exchanges. You may not know it but the API for Crytpto is public in the public domain, but requires a reliable API and aggregation to get best pricing and ensure best execution.
You have the ability for immediate FX CFD and CRYPTO data feed when you begin working with us.
The bridge, and whatever else you choose to outsource to our company will be provided with 24 hour support and 14 years of experience and reliability.
To complement the uBridge, we have a suite of products that will help your dealing room for whatever purpose. Please contact us to learn more
Fix bridge features MT4:
- Work as part of MT4 server
- Simple installation process
- Supporting Market ordelr and Pending, Stoloss, Takeprofit, Stopout activations
- Supporting liquidity aggregation
- System messages embedded into standart MT4 server log
- Custom build FIX 4.4 engine
- Supporting symbol markups
Fix bridge features MT5:
- Work as MT5 gateway
- Simple installation process
- Supporting Market orders and Pending, Stoloss, Takeprofit, Stopout activations
- Supporting liquidity aggregation
- Custom build FIX 4.4 engine
- Supporting symbol markups
- Supporting PriceBooks (Depth of market)
The uBridge works with such major liquidity providers as: LMAX, TopFX, Integral, FXCM, FXDD
Special attention! uBridge meets all technical standards for use under the FIX protocol and is ready for use with any Liquidity Provider. This function is already in use: TopFX, Prime XM and other!
uBridge for MT5/MT4/FXGO DEMO

3 easy steps to run a Demo:
2. Download and install uBridge manager to have live experience with uBridge (preconfigured).
Or request free consultation about uBridge manager: